Modern technologies we have used to build this platform
Our modern & rich tech choice will encourage you to think in a different way. As we have used modern technologies, your experience will get better by using Pixer.
Laravel
Next JS
React
Tailwind Css
TypeScript
React Hook Form
React Query
Stripe
Headless UI
Framer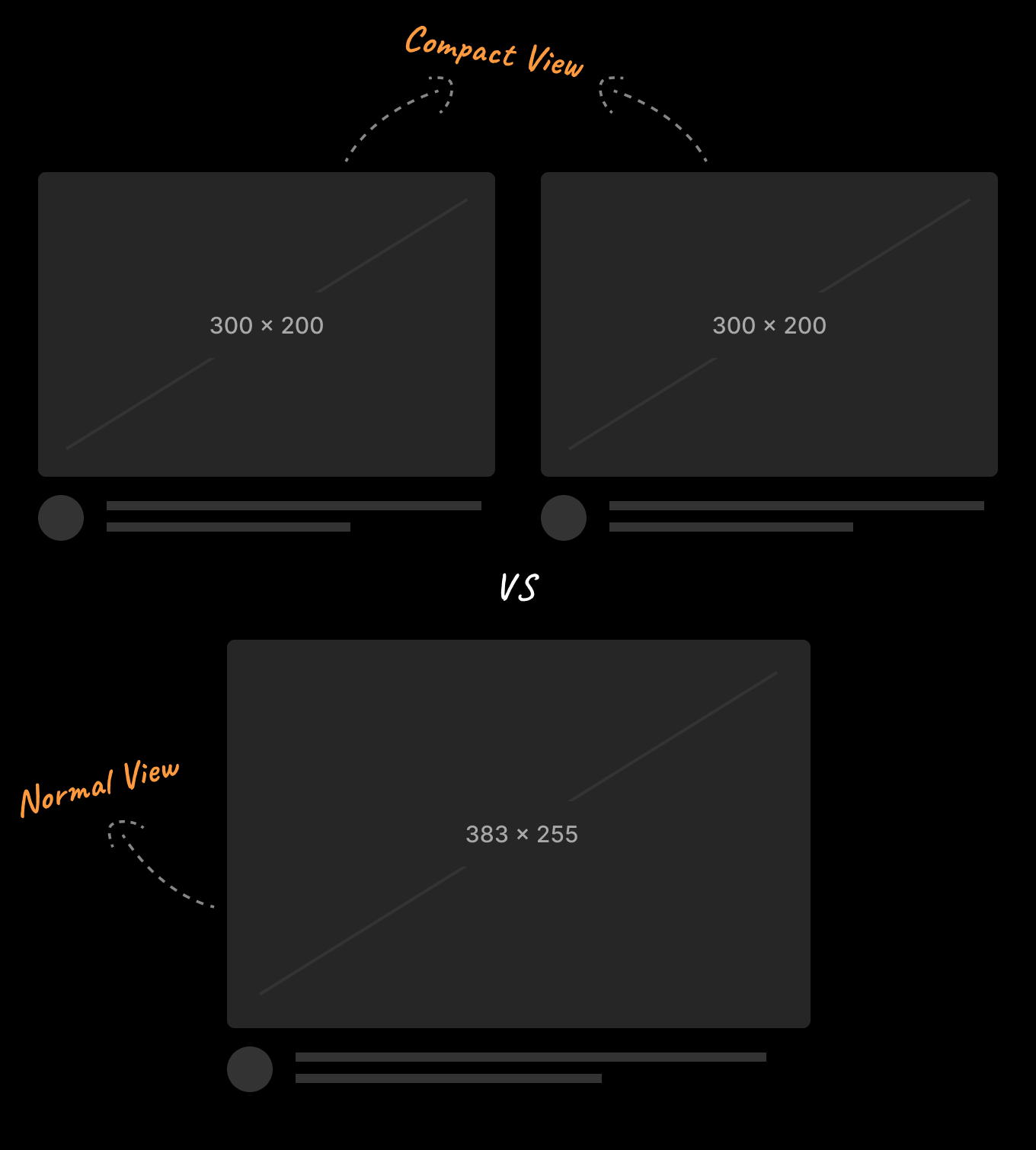 Multiple Grid View
We have both Normal view & Compact view.
We have provided support for both normal & compact grid view according to the user prefernce. Users can select their grids using simple grid toggle button.
View Demo
Modal View
We have incredible modal view implementation!
We have introduced a quick product details view using our modal. Also users can instantly download the free products & add their products into cart for future checkout.
View Demo
We have both Dark mode & Light Mode
Switch between dark and light mode of the whole pixer template according to your preference. Our fresh & clean design for both mode is a treat to eyes.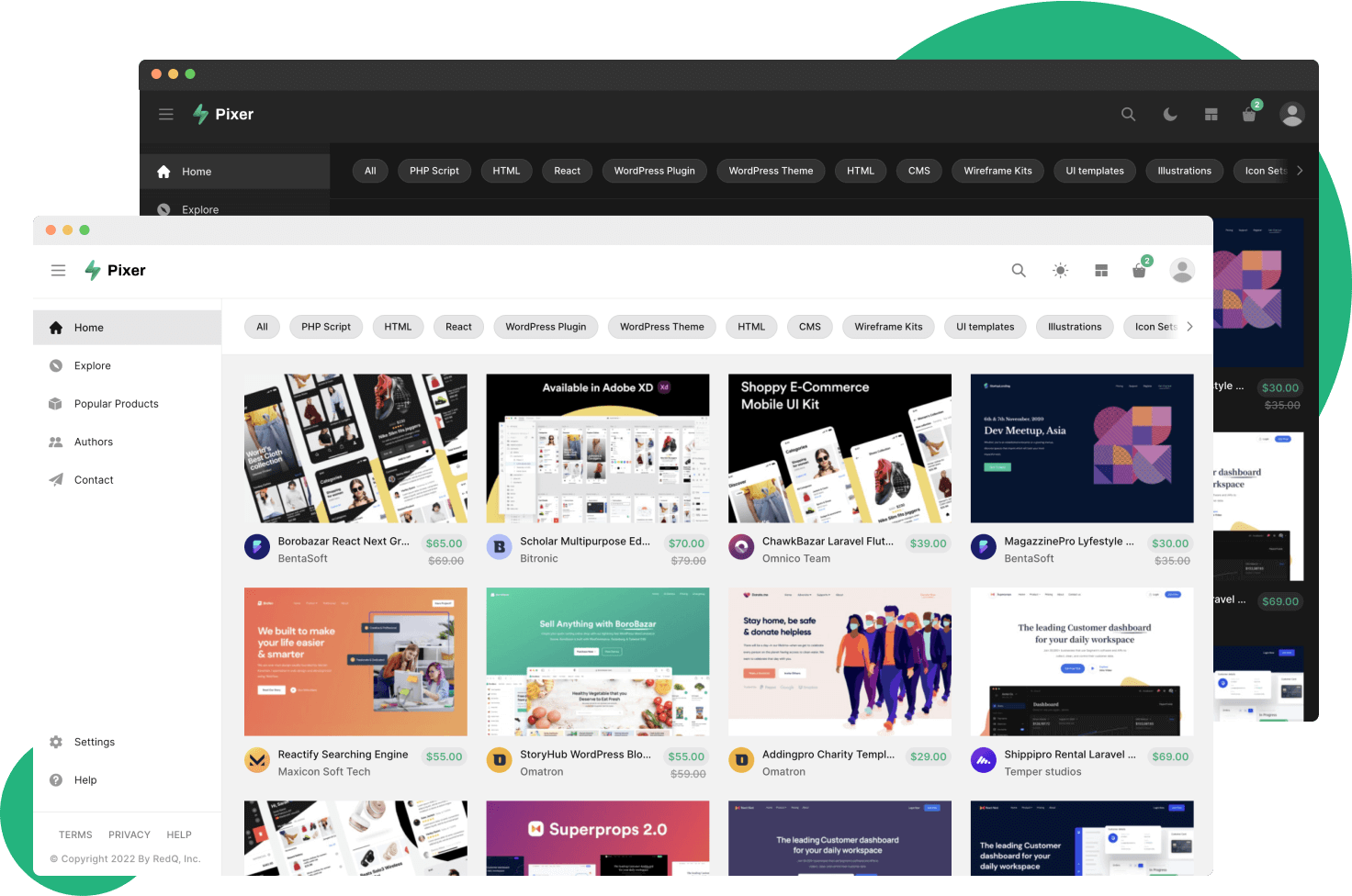 Why you choose Pixer!
Main features of the product
Super Fast Performance
Optimized for a smaller build size, faster dev compilation and dozens of other improvements.
PWA Support
PWA support for Pixer, offers you & your customers a great solution with native-like app experience.
Payment Integrations
We have provided multiple payment gateway supports like stripe. More integrations are coming soon.
Wallet Feature
Admin or store owners can add wallet points for their customers. Customers can use it to buy their assets.
Easy Customization
We have provided a lot of useful build in components to make it easy for customers.
Elite Author Support
We can assure you the proper Elite Author support and faster response for our products.
Author Profile
Pixer have author/store view to explore specific authors
Users can view a specific author's details and their digital assets by using our pixer platform. We have also provided a tab view for products and detailed sections.
View Demo
Add to Cart
Easily add your products in your cartlist
We have provided Quick Product Preview for all of our products that display additional product information. We have also provided quick and smooth add to cart option, for adding products.
View Demo
Fully Customisable admin with multiple options
In Pixer, we have a fully customisable admin to create shop, add or delete products, you can play with different categories, tags, track your orders and extend settings option.
Highly Customizable Admin
With Pixer extend admin options, you can easily customise your admin according to your need.
Manage your layouts
We understand our customers need, that is why in Pixer admin, we have every options with admin layouts type.
Users, tags, orders & more
Manage your users, create tags & categories, track your orders, refunds options will give you freedom to explore.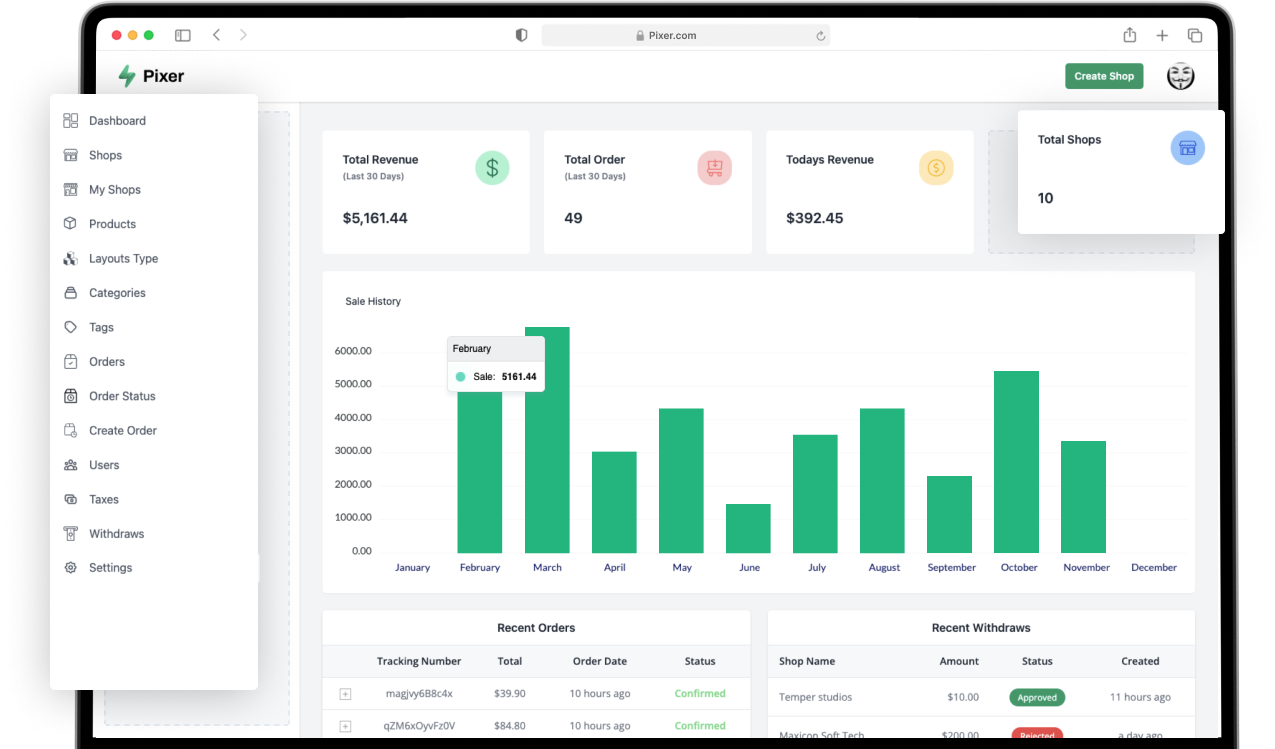 Product Search
Product search with full popup search view
Our product is equipped with popup search view to find what you want. Feel the magic of search with infinitive product load.
View Demo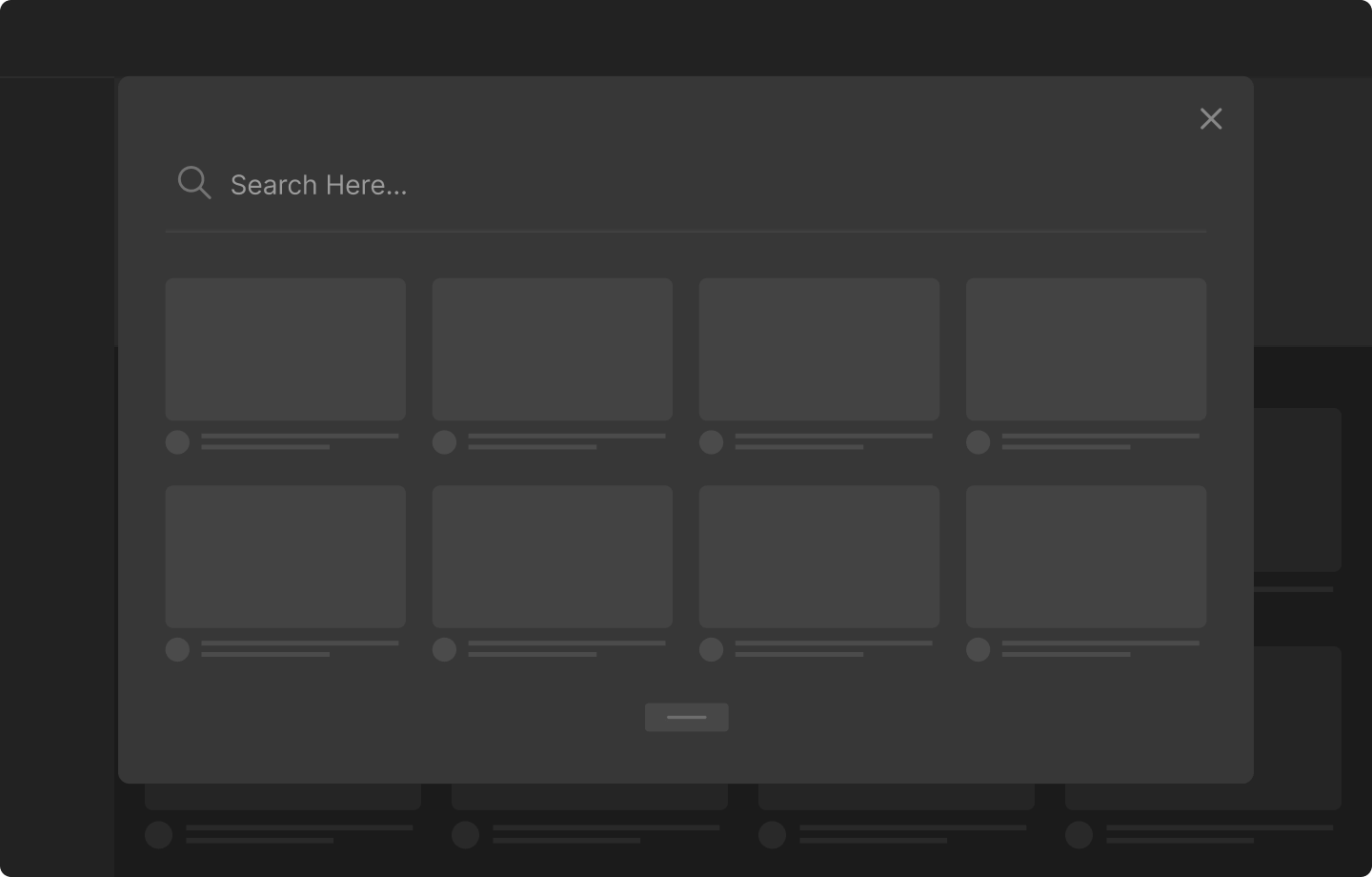 Easy to Checkout
Pixer have a modern checkout view with easily acceptable flow
Checkout option is a final touch to your website's purchase process. We have made the process very easy for customers.
View Demo
We have added multiple auxiliary pages
We have provided a range of custom pages in Pixer, to build up a better experience. You will fall in love with designs.
Responsive devices.
Pixer is fit for any responsive devices.
Ready-made responsive layout with a little creativity, suitable for your mobile and tablet devices. We pride ourselves on being user-friendly for you and your customers.
Freequently Ask Question
Do you have any quesiton?
Online Documentation
We have provided a rich offline and online documentation with every details.
Documentation
View Support
We offer an online platform to support all customers! Ask your queries there.
View Support
Regular Updates
Free for the Lifetime
Elite Author
31,000+ Total Sales
Superior Quality
Superior Quality