Boost Up Your Rental and Booking System ⚡️
You can Build various kind of rental and booking site by using this plugin. We have implemented few of those.
The Default Layout you will find after Installation
By Default, The layout is applicable for all kinds of Rental Products along with all the features available in this plugin. It is also applicable for all kinds of rental and booking like Car, Bike, Equipement, Dress, Tour, Event etc.
Hotel Booking Demo
Uber Like Map based cost calculation on Modal
like Uber, this feature allows you to drag and drop your pick up and drop off location through which the distance and cost can be calculated. Exclusive Modal layout is shown for your Rental and Booking System.
Transportation Booking Demo
Exclusive Request For Quote option for customer
This exclusive feature allows you to connect with your customer and acts as a bridge between you and your customer for making price negotiation on their booking. Click on the Request for Quote Button by going on this demo.
Request For Quote Demo
Schedule appoinment with Appoinment Booking Feature
This new feature of the plugin allows your user to book appoinments through your website. Try our new appoinment booking demo if you want to book to create facilities of appoinment booking.
Appoinment Booking Demo
Book or rent your product with Inventory Variations
Have variations of products? This feature allows you to have multiple inventory of same product. Click on the Inventory Variations Demo to book or rent your product with Inventory Variations.
Inventory Variations Demo
Rent or book products for hours with calender blocking
Try out hourly booking feature if you want to rent out your products for hours only. It will block the hours in calender also. Try our hourly booking demo if you want to book or rent a product for less than 24 hours.
Hourly Booking Demo
Various Features of RnB Plugin
RnB allows you to add unlimited product line and gives you the option to set your own pricing along with maintaining calendar and request for quote option.
Inventory Management
Inventory Management allows you to create one product and configure multiple same products. It creates value in your site.
Pricing Plans
The plugin supports Four types of pricing plans. It also supports hourly pricing if you want to book for less than 24 hours.
Request For Quote
This awesome feature allows you to communicate with customers and negotiate price on their booking or rental
Rental Product
A new product type named rental product will create which doesn't conflict with WooCommerce default product types.
Google Calender Integration
Google calendar Integration is a valuable feature and full documentation is available in our document section.
Local & Global Settings
Through these settings you can decide that if a setting will work for an individual product or will it work for all products.
Inventory Attributes
We have payable and non-payable attributes like person, pickup location etc. That are controllable via inventory tab.
Price Discount
Price discount is an exciting feature. You can set both fixed discount or percentage discount on different products.
Video Tutorials for Easy Understanding
Check out our tutorial videos to explore more about this awesome Woocommerce rental and booking plugin
How To Install RnB Plugin
It's easy to install the RNB plugin onto your WooCommerce website.
How To Create Inventory & Product
we'll show you how to create an inventory and add your products with RNB on your WooCommerce website.
RnB Global and Local Settings
In this video, we will show you the global and local settings of the rnb plugin.
RnB Pricing Including General Daily, Monthly, Day Range
In This video we have shown different type of pricing available on RNB plugin.
RnB Inventory Management attribute
In this video we are showing attribute part of inventory management
RnB Uber Like Model Layout
In this tutorial, we will see how RNB Uber-like layout works in a modal.
View More Videos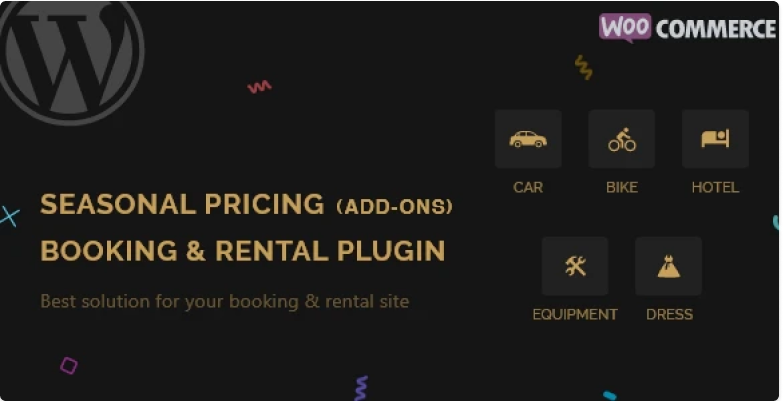 RnB Seasonal Pricing (Add-on).
$95
The Seasonal pricing add-on allows you to charge promotional/seasonal pricing for specific date range of any rental product. This enables admin to configure pricing very easily based on different criteria. This is a simple and easy to use add-on perfect for your business.
View Demo
RnB Backend Booking (Add-on)
$49
The RnB Backend Booking add-on allows admin to create a rental order from WordPress admin. It provides all the features that is available in RnB front-end booking plugin. This plugin will help admin to create both online and offline booking business.
View Demo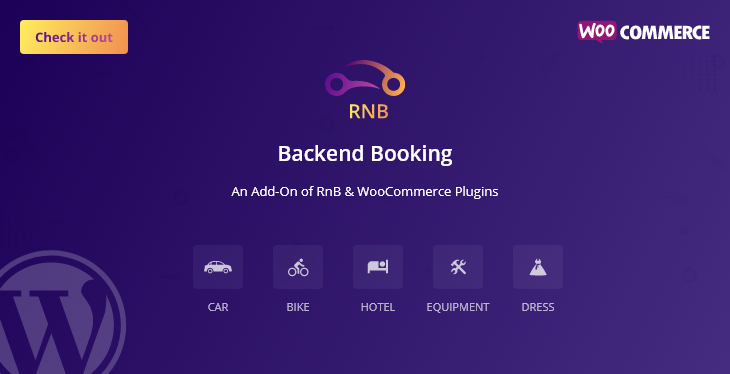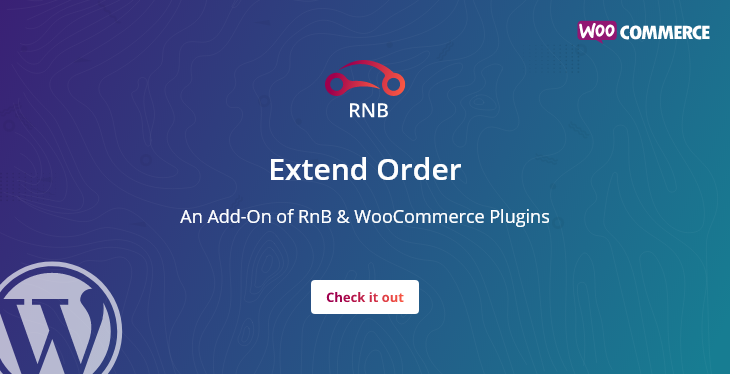 RnB Extend Order (Add-on).
$49
RnB extend order plugin is an extension of WooCommerce and WooCommerce Rental & Booking plugin(RnB) . It allows customer to extend a rental order from wooCommerce my account page. This plugin will help customer to extend their existing booking depending on its availability,
View Demo
Other Quality features of RnB
The plugin has so many amazing features that helps you to create top notch rental & booking site
Unlimited Bookable Products
Multiple Inventory Management
Product Availability control
Online/Offline Payment Gatways
Order notification check
Control Order Status
Day based booking calendar Blocking
Hour based and Calendar Blocking
Hourly based Pricing
Flat hour based Pricing
Hour Range based Pricing
General Price Configuration
Day Range Price Config
Kilometer/mile Based Pricing
Price Discount (Percentage/Fixed)
Display Pricing information
Price Breakdown During Booking
Coupon Based Discount
Categories with Quantity
Category (Mandatory/Optional)
Category Cost (Per day/One time)
Security Deposit handle
Deposit Cost setting
European/Non-European Date
Full/Partial Payment setting
Configure Booking Fields Label
Last Hour Management
Max & Min Booking Days
Initial Block Days Settings
Holidays close setting
Opening & closing hours config
pre/post booking block days
weekend selection settings
daily & monthly price Configuration
Our Themes which have by default RnB plugin support
Any WooCommerce supported theme works perfectly with the RnB plugin without any design break.
What our clients say about us
We create products that create values and always try to provide worldclass support .
Very good rental plugin which allows for a lot of different scenarii (for example pricing structure etc.). Easy to install and set up.
This plugin is very easy to understand but also fast, but what I like the most is the customer support. Very polite, friendly and quick response.
I really recomend this plugin, it works really well, and it is the cheapest booking system integrated with woocommerce. The support is awesome, it helps me a lot with the process to integrate it with my website.
Not a great visual design but very simple, adaptable, clean and very complete. I would like the possibility of not publishing prices in the header. Very complete documentation, a bit complicated to understand at first but thanks to the videos on Youtube it is easy to start filling in and publishing.
I give 5 star rating for your wonderful service and support ! Thank you for fixing the issue on our site, Cheers !
support from redq team really helped us in solving problems. they are very fast in solving our problems. I hope that the future will always be better.
A really good plugin to fit a lot of renting scenarios, support answer quickly and purpose customisations.
There was e bug on the plugin. So i wrote to support and they fixed it as soon as they could.Thanks a lot for your development!.
Amazing support. Very fast and clear with all i asked.The plugin works greatly and is absolutely the best to make bookings. Thank you to all the developer!
This plugin is an affordable option to extend in WooCommerce. We have faced some hick-ups but the customer service responds very quick and resolved the issues.
Rapid Fire Section!
You can find here some basic questions!
Can I create any rental site using RnB plugin?
YES
Do I get RnB plugin updates on a regular basis?
YES
Do I need to be an experienced user to use this plugin?
NO
Do WooCommerce payment gateways work with RnB?
YES
Do WooCommerce extensions work with RnB?
YES
Is the RnB plugin work with any WooCommerce theme?
YES
Do you Have Any Question?
Get your question answered by our FAQ section.
Online Documentation
We provide a rich resource library with Articles, tutorials and guides! Learn about Pricing, Discounts, Layouts & more.
Documentation
View Support
We offer an online platform to support all the RnB Customer! Browse and ask any kinds of queries there.
View Support
Love it? Purchase RnB Today 🚀
Complete rental & booking solution for your site based on WooCoommerce.